Gas Technologies LLC, founded in 2004, is the developer of the patented GasTechno® Mini-GTL® technology capable of converting renewable gas into high value liquid fuels and chemicals including methanol and ethanol in a single-step. This innovative gas-to-liquids solution can be deployed economically at scales well below those of traditional Fischer-Tropsch (F-T)-based multi-step technologies. GasTechno's Mini-GTL® technology is supported by an extensive patent portfolio and other intellectual property (IP), and is commercially ready with deployment of its fourth- and fifth-generation plants in Michigan during 2021-2022.
GasTechno® is seeking to identify potential licensees interested in acquiring the exclusive or non-exclusive rights to use and / or sublicense GasTechno's Mini-GTL® technology within specific geographical territories located worldwide.
Our Expertise
GasTechno® has been in business since 2004 and began developing and deploying their small scale, modular GTL systems in 2010. The initial focus was on associated flared gas from oil gas production but in 2020 the company shifted to producing renewable methanol from landfill gas, digester gas and wastewater treatment facilities. In 2021 the company began sourcing projects in Michigan and California to develop our low cost, energy efficient technology that converts renewable natural gas into methanol, ethanol, DME and hydrogen.
Further, in 2021 the company has been developing conversion kits for class 2b to class 8 trucks that will operate on methanol, hydrogen, DME and electricity to reach near zero emissions.
The company has operated 3 separate plants since 2010 on six different locations between Michigan and North Dakota. The 2010 pilot project was an 18 foot cargo trailer that validated the reactor system both with 100% methane, and also at a flared gas site with 18% nitrogen. The 2013 portable Mini-GTL® plant was a 25-foot car hauling trailer and operated over 7 months both on pipeline gas and flared gas exceeding 1,600 btu's. The 2016-2017 commercial Mini-GTL® 300 plant was first installed in Michigan on a gas storage field and operated over 900 hours for third-party validation. In August of 2017 the plant was moved to North Dakota for commercial validation and research utilizing air rather than oxygen for operations.
In 2021 a fourth-generation Mini-GTL® 300 plant is being constructed in New York and a Mini-GTL® 750 plant is being constructed in Texas to be operational in 2022.
Walter Breidenstein
Walter Breidenstein founded GasTechno in September 2004 and currently manages the design, engineering, patent licensing and services company involved in natural gas processes and chemical processing plants. The primary research and development of the company is focused on a gas to chemicals and liquids process to convert methane to oxygenates e g methanol and ethanol) called GasTechno® The GasTechno® process utilizes a homogenous partial oxidation reaction with oxygen and methane to produce value-added, liquid oxygenates This process is the culmination of more than one hundred combined years of research conducted by some of the world's most reputable gaseous phase, hydrocarbon reaction kinetic scientists. The technique takes advantage of extremely fast reaction kinetics which occur under specific operating conditions and the auto thermal nature of the oxidation of methane. The results are a proprietary percentage conversion of methane into oxygenates per pass with minimal operation costs. Total overall conversions exceed 90 and make the process highly modular, scalable, and profitable for stranded or flared gas.
In July 2000 Walter founded Build It Global Inc BIG® Walloon Lake, Michigan It is a program management and project finance company that utilizes advanced software applications and extreme programming methodologies for speed and performance BIG was developed to create a methodology and collaborative environment for financing projects Subsequently, technology tools were applied to create a highly scalable JSR 170 compliant java content repository for data storage and project implementation. During the development phase of BIG, agile development was employed to gain the most advanced open-source platform of technologies using open standards BIG is today used by project teams, scientists, engineers, lawyers, financial professionals and consultants from around the world in collaboration to complete program management tasks from start to finish.
EDUCATION
B.A., Ferris State University, 1987
A.S., Petroleum Technology, Northwestern Michigan College, 1985
Samuel H. Price
President/CEO SEI Tech, Inc,
(Founder/Partnered with Emerson Instrument Valve Services to supply all of their contractor Instrument technicians (I&C technicians) across the United States. Working in every type of industry Calibrating, Troubleshooting, Repairing, Installing and Maintaining all makes and models of process control instrumentation and valves.
Troubleshoot, Repair, Design, and Maintain Process Control Systems. Helped GasTechno ® develop, design, and operate the GTL process.
EDUCATION
Electrical Engineering, Central Michigan University
Consumer Power Training Center, Midland, MI
John Baker
is a recognized expert in bioreactor landfills, leachate and groundwater treatment (including PFAS and 1 4 dioxane) waste density and compaction optimization, alternate landfill caps, LFG, groundwater quality, hydrogeology, innovative wastewater treatment, surface water quality management, landfill operational efficiencies, and alternative waste management technologies He has led numerous State and Federal workshops for groundwater monitoring and assessment techniques, bioreactors, and innovative technologies for LFG management Before joining GasTechno John previously worked 23 years for Waste Management, Inc. (most recently as the Director of New Technology). In this role, Mr. Baker was responsible for developing innovative methods for environmental assessment, including using 1 4 dioxane as a tracer in plume migration studies, remediation and wastewater treatment, and proactive management, operation and design of active and closed landfills He developed and managed over 30 bioreactor landfill demonstrations and helped in the permitting and conceptual design of the Outer Loop Landfill bioreactor in Louisville working with the State of Kentucky and United States Environmental Protection Agency (on a cooperative research basis).
EDUCATION
Master of Environmental Engineering M.S.
1973, University of Illinois, Urbana
B.S., Biology/ Chemistry, University of Illinois, Urbana. 1971
Advisors & Representatives
Authorized Marketing Representatives
August 2013
Patents ranked #1 in Michigan
#1. Gas Technologies LLC
#15. Michigan State University
#49. Dow Global Technologies LLC
#60. GE Aviation Systems LLC
#65. General Motors Corp
#76. Ford Motor Co.
#78. Union Carbide Chemicals
#79. ThyssenKrupp
#100. Delphi Technologies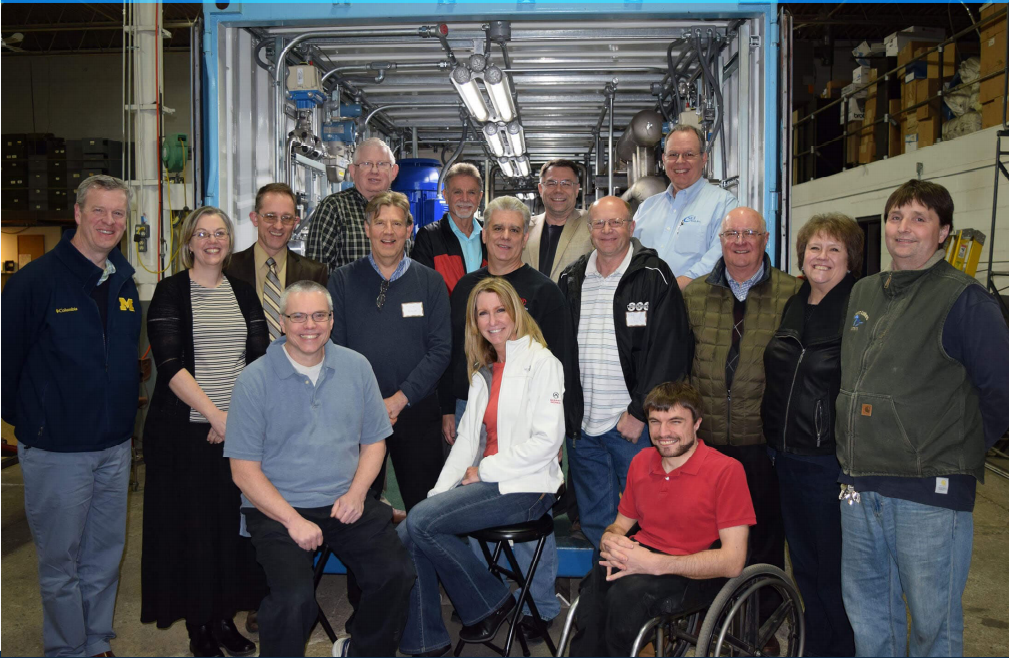 Quality of Intellectual Property (QoIP) Study by AON
Indirect Conversion Results – Portfolio Statistics
Company
US Grants
US Apps
US Total
Intl Grants
Intl Apps
Intl Total
WW Grants
WW Apps
WW Total
GasTechno
14
0
14
 14
 5
 19
 28
 5
 33
 Linde
 37
3
 40
 48
 47
 95
 85
 50
 135
 Haldor Topsoe
 31
 4
 35
 110
 89
 199
 141
 93
 237
 Shell
 25
 0
 25
57
 29
 86
 82
 29
 111
 Air Liquide
 19
 2
 21
 35
 21
56
 54
 23
 77
 EnBW
 12
 0
 12
 0
 0
 0
 12
 0
 12
 Exxon Mobil
 11
 0
 11
12
 6
 18
 23
6
 29
 Velocys
 1
 1
 2
 0
 1
 1
 1
 2
 3
Direct Conversion Results – Portfolio Statistics
Company
US Grants
US Apps
US Total
Intl Grants
Intl Apps
Intl Total
WW Grants
WW Apps
WW Total
GasTechno
11
0
11
14
1
15
25
1
26
Haldor Topsoe
0
0
0
0
4
4
0
0
0
Air Liquide
0
0
0
0
0
0
0
0
0
Exxon Mobil
0
0
0
0
0
0
0
0
0
Velocys
0
0
0
0
0
0
0
0
0
GasTechno Major Milestones
June 8, 2015 SBIR DOE Grant for DMM
May 25, 2016 Ocean Tomo Patent Valuation of $41.5 million
July 10, 2016 Patent Transfer pricing study completed by Duff & Phelps
January 27, 2017 Ocean Tomo Revised Patent Valuation of $135.2 million
November 14, 2017 Polytechnique de Montréal Agreement for DMM & PolyDMM
February 28, 2018 Stratas Advisors Agreement completed Market Assessment of DMM & PolyDMM
August 2018 – May 2019 Developed new licensing program
May 2019 Started licensing, first customer May 2019, second customer July 2019
March 2021 Completed AON QoIP Study
August 2021 GasTechno Energy & Fuels (USA) LLC closed $7.0 million in Series A financing.
Commercial Readiness Timeline
July 5, 2017 – approved DBOOM site in North Dakota per $7MM PPM strategy
July 21, 2017 – fly to ND with Schunk Oil Field Services to engineer site plan
September 1, 2017 – start NGL plant after 3 weeks construction
November 10, 2017 – complete $15MM PPM for DBOOM strategy
December 31, 2017 – generate $69,923 NGL revenues at year-end
January 10, 2018 – Mini-GTL from Michigan in -40 degF extreme weather
January 12, 2018 – accept last $25,000 investment from $7MM PPM before closing
January 31, 2018 – delay $15MM PPM issuance due to further extreme weather
February 2018 –weather was often -40 degF temps (one of worst in ND history)
March 2018 – search for new ND customer with flared gas exceeding 1 mmscfd
April 9, 2018 – close down site in ND and return to Michigan
May 2018 – move Mini-GTL 300 plant and all equipment to Utah
July 12, 2018 – cancel Utah testing program due to lack of capital
July 18, 2018 – hire IP Capital Group on designing licensing strategy
July 26, 2018 – receive IP Capital Group report on Patents
August 1, 2018 – cancel $15MM PPM to change strategy to licensing model
August 1, 2018 – receive licensing candidate list from IP Capital Group
August 1, 2018 – start updating sublicensing agreement with Simmons & Simmons
October 26, 2018 – GTL parent acquires Idrocomp Compessors in Italy
November 13, 2018 – visit ND to evaluate $5.3 million equipment for $1.5 million
December 31, 2018 – Nexant completes new GasTechno Mini-Methanol Study
March 5, 2019 – investigate tax conversion of LLC to corporation
March 15, 2019 – second critical diesel patent approved by USA patent office
April 23, 2019 – GTL parent files for captive "Integrated Energy Insurance Company"
May 1, 2019 – GasTechno technology licensing program announced
May 8, 2019 – first customer signs agreement for $1.6 million equipment purchase
June 12, 2019 – Tennessee approves "Integrated Energy Insurance Company"
July 29, 2019 – second customer approved $2.8 million equipment purchase